Electric Vehicle sales are steadily increasing. It is no surprise that modern EVs boast significantly improved performance, greater battery capacity, and accessibility. And, with the unfolding energy crisis, electric vehicles are now officially a whole lot cheaper to run.
With that said, with over a million EV registrations in the US, the number of Americans interested in purchasing or leasing an electric vehicle has grown exponentially. It means that the need to expand the EV Charging infrastructure is direr than ever.
The President's Administration's recent Bipartisan Infrastructure Bill (the single largest infrastructural investment in America's history) implies substantial funding to support EV adoption nationwide. As part of the Bipartisan Infrastructure package, the government rolled billions of dollars to support the EV Charging infrastructure over the next five years.
Still, think EV Charging is a gimmick? Let's talk numbers:
$7.5 billion is earmarked to help build a national network of 500,000 EV chargers.
15,000 public EV charging ports must be installed quarterly by 2030, according to a U.S. Department of Energy report.
The EV Charging demand is projected to grow 30 times by 2030 and 100 times by 2040.
Hence, the upcoming rEVolution is inevitable. The question is - will your business be able to lead the charge?
Gearing Up Your Business With EV Chargers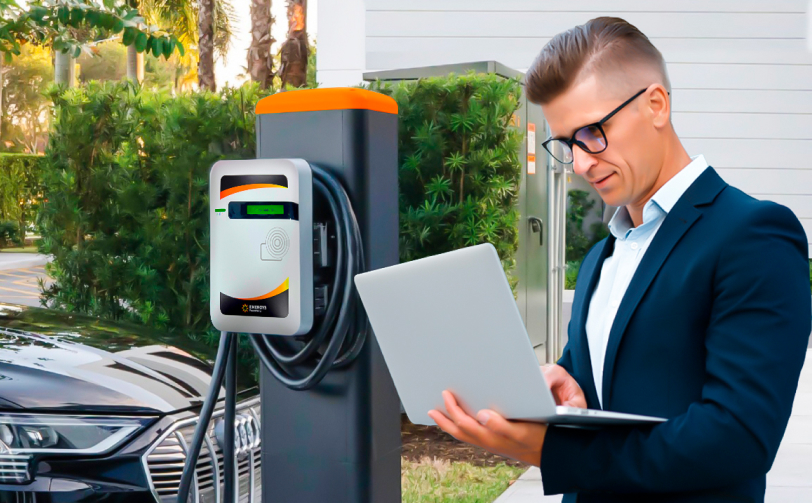 The government's ambitious zero-emissions vehicle sales plan implies that 48 million EVs will hit the roads by 2030. That's 48 million potential customers your business could retain by installing EV Charging stations on your premises.
Building scalable infrastructure and offering charging point installations to people and companies from all walks of life may give you, as a business owner, landlord, or CEO, a number of undisputed benefits:
Hospitality. Increasing guest retention.
Multiunit buildings. Providing at-your-doorstep charging solutions.
Retail. Delivering convenient charging points for the customers.
Workplace. Creating goodwill for the business in the eyes of the employees.
Furthermore, among the direct revenue stream, the EV Charging stations will:
Attract high-quality tenants or guests.
Retain highly qualified employees.
Keep customers in stores long enough for them to

spend more.
Save More Money on EV Charging Purchase & Installation in CT
In case your business is located in the state of Connecticut, you're in luck 'cause numerous rebates and incentives are provided to commercial customers toward purchasing and installing EV chargers.
In some cases, your business may save up to 100% of Make-Ready installation costs allowing you to install cutting-edge EV Charging infrastructure for free!
To make things easier for you, we decided to gather some of the commonly occurring rebates and incentives in the state of Connecticut in a single comprehensive list. The list includes Level 2 EV Charging rebates and EVSE tax credits:
Rebates for commercial customers - up to 50% of EVSE price and up to 100% Make-Ready installation costs (2+ ports).
Rebates for commercial customers - up to 50% of EVSE price and up to 100% Make-Ready installation costs (2+ ports).
Rebates for government entities - up to 65% of the EVSE purchase and installation cost. Commercial customers - up to 60% of the EVSE purchase and installation cost.
Commercial customers may be eligible for rebates up to $1,500 (for L2 chargers installed on commercial premises) and up to $2,000 for publicly accessible L2 chargers.
Keep in mind that the amount you'll end up paying would depend on several important factors:
Figuring out the rebate paperwork can be tricky. That's why it's a task best left to the industry experts to handle. At the end of the day, all of the mentioned rebates and incentives could help your business save a substantial amount of money on gearing up your business with top-of-the-line EV Charging infrastructure.