People use the words energy supplier comparison when they talk about energy deregulation. Energy deregulation is the process of integrating competition in the wholesale energy market and allowing Illinois electricity providers to buy electricity at low prices and tailor individual plans for their consumers. As a result, homeowners and business owners can choose electricity providers or personal energy plans and adjust them according to their needs. Energy deregulation prevents monopoly and improves competition, benefiting the end consumer who receives the best Illinois electric rates and uses his power of choice.
Do You Know These Facts about Energy Choice in the USA?
From the start, the energy industry was fully regulated, and in 1932 around 8 companies owned 73% of electricity in the US.
In 1935, Congress passed the PUHCA (Public Utility Holding Company Act) to stop the increased monopoly and initiate regulated protocols in the energy market.
When the energy crisis hit in 1970 and the oil embargo in 1973 changed the lives of Americans, the USA built power plants that relied on its natural resources - coal and uranium. The exorbitant prices for their construction were passed to consumers who saw shocking electric prices on their bills. They couldn't even dream about having an electric choice and switching their electricity supplier.
With the implementation of the Energy Policy Act in 1992, the energy wholesale market started to be competitive, and the first deregulation policies would emerge for the public.
In 2022, 26 states deregulated their energy or gas market, and thousands of consumers used their energy choice to get lower prices on their monthly bills.
Deregulation was the first form of managing electricity from the time the first power plant was built in America. The lesson is obvious - consumers should have the power to choose their electricity provider.
Does Illinois Electric Rates Comparison Work for Everyone?
In 1998, Illinois was among the USA's top 5 electricity producers. Despite this fact, the state had only 2 utility companies serving residents that monopolized the entire energy market. To save consumers from unreasonable prices, Illinois passed the "Electric service customer choice and rate relief law." The energy rates dropped by 20% and remained fixed for the next ten years, which stopped people from switching their electricity providers. Things changed when prices increased by 10% at the end of the rate relief period.
If initially there were only 8 alternative energy suppliers, their number expanded to 87 between 2009-2014. After Illinois decided to switch electricity providers, the state saved its residents about $37 billion. Consumers can't deny deregulation's advantages for their houses and businesses today. They get low prices, customized energy plans, and a lot of additional benefits by switching energy suppliers.
The Average Illinois Electric Rates in 2022
According to the U.S. Energy Information Administration, the energy rates in Illinois in 2022 are the following:
Residential: 15.06 cents/kWh
Commercial: 11.30 cents/kWh
The energy sources of utility energy generation:
Petroleum-Fired: 0.0%
Natural Gas-Fired: 6.5%
Coal-Fired: 23.6%
Nuclear: 51.4%
Renewables: 18.1%
The energy sources for home heating:
Natural Gas: 77.1 %
Fuel Oil: 0.1 %
Electricity: 17.0 %
Propane: 4.2 %
Other/None: 1.5 %
Energy facts about Illinois:
Illinois holds the fifth place as the primary energy generation source and the same place for energy consumption in the USA.
The USA has 99 power reactors, and 11 of them are located in Illinois. This makes Illinois rank first in nuclear power production.
Almost 11% of Illinois energy comes from renewable sources, and wind power provides 90% of the total.
Illinois produces a large portion of the USA's biodiesel reserves and ranks third in biodiesel consumption.
How Does Electricity Come to Your House in Illinois?
Until you get electricity at home, it follows the following path:
1) Generation - most electricity in the country is generated by coal, natural gas, nuclear energy, coal, and renewable energy.
2) Transmission - once the electricity is generated, it is transmitted from the power plants through high-voltage lines to the local distribution network.
3) Distribution - at this point, the electricity is distributed through low-voltage lines to your home.
4) Consumption - you use the energy and pay the bill to your utility or chosen Illinois electricity providers.
What is the Role of Your Illinois Electric Supplier?
In the past, utilities were publicly owned and were a one-stop shop for everything energy-related, starting with electricity generation, distribution, billing, solving disputes, and much more. Consumers in Illinois had no choice in switching their electricity providers. Once deregulation came into the country, the whole system changed.
Today, a supplier buys electricity and gas from generators and sells them to consumers at a better price. Even more, electricity suppliers in Illinois create competition and can tailor different plans with better electric rates for consumers. This way, your electricity is still transmitted and distributed by the local utility, but the actual supply comes from your chosen energy provider. This is why your energy choice is important in Illinois.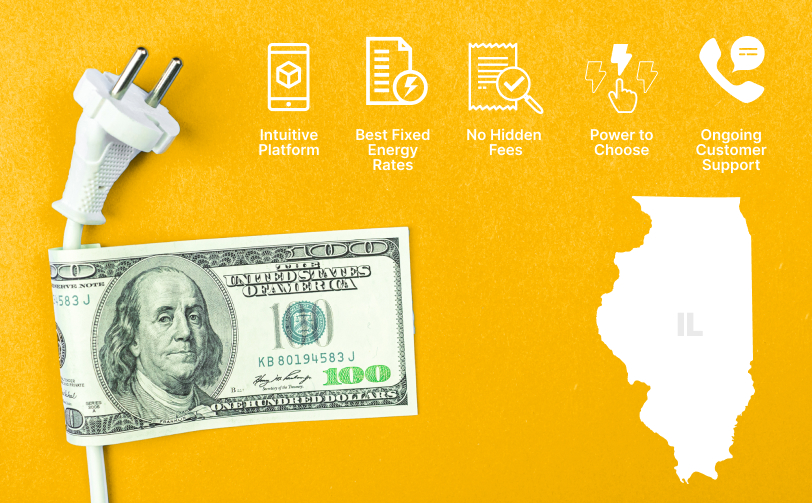 What Are the Benefits Illinois Hides About Your Energy Choice?
You can save energy. Deregulation has saved consumers in Illinois $37 billion. While utilities provide nonnegotiable rates, switching electricity providers will allow you to choose a better deal with customized terms, such as price, early cancelation fees, plan length, renewable energy sources, and others, which means you will get the best Illinois electric rates.
You don't experience service interruption. When you switch your Illinois energy supplier, it will make the necessary changes for you by contacting the local utility to make the switch. This way, you won't undergo any connection problems and can continue using electricity for your home.
You can opt for a renewable energy source. Multiple Illinois electricity providers offer plans with rates based on renewable energy resources. By choosing green energy, you can contribute to reducing your carbon footprint and be a part of the USA's net-zero policy.
You get better service. Electricity providers will deliver valuable services to their customers to survive the competition. You get fast assistance, lower Illinois electric rates, and better 24/7 customer support than your utility offers.
You have the power to choose. Forget about monopoly prices and unfairness - today, you are the one who decides which electric rates are best for your home and business. You can choose the most suitable energy providers on the market and make the Illinois power of choice work for you!
What Types of Plans Can You Get in Illinois?
Fixed-rate plans. The plan will have a fixed price that won't change during the contract's time. If an energy crisis strikes the country and prices skyrocket, your home will be secure with fixed electric rates.
Variable plans. These contracts are flexible because the energy rates will follow the price changes in the wholesale energy market. On the one hand, if prices rise, your bill is higher. But on the other hand, in Illinois, you will get lower electric bills and electric rates when prices go down.
No-deposit and prepaid energy plans. Usually, electricity providers will check your credit score and ask for a deposit before starting a plan. With no-deposit contracts, you avoid credit checks and can even choose the prepaid option. You deposit money into your personal account, and the supplier uses it monthly to pay your bill.
Green energy plan. As discussed above, several Illinois electricity providers will have renewable electric plans. It's important to make a green choice and reduce your carbon footprint.
Business plans. In today's energy crises, securing just your home in Illinois with tailored electric rates is not enough. That's why electricity providers have reliable business energy plans, and you get to save money and electricity on your company's bills.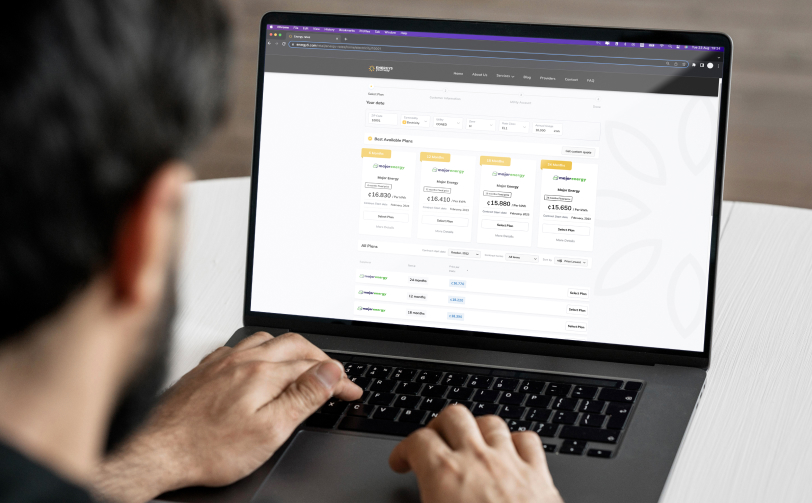 How to Switch Your Illinois Electric Supplier?
Switching your energy supplier is a piece of cake. The process is even faster and straightforward with Energy5.
Access Energy5 and compare providers and prices in your area.
Review the plan details and select the one that suits you best.
Upload recent bills to show your supplier your average monthly electricity usage.
Request a customized price and electric rates for your house/ business.
Recheck the contracts' clauses, make a choice, and confirm the switch.
Your new Illinois electric supplier will contact your local utility and make all the necessary changes.
You are all set for now!
Why Is Your Energy Choice Important?
After so many unexpected global events, such as Covid, the energy crisis, and constantly rising inflation, it's time to secure your home and business in Illinois and get fixed energy rates. Although you may feel unaffected today, things are progressing quickly.
Forget about the anxiety you constantly get before opening your monthly energy bill. Forget about rising wholesale energy prices and overcharges. Today you can actually make the energy choice work for you and take matters into your hands. That's why Energy5 can select the best electricity providers in Illinois, tailor an electric rates comparison, and develop solutions to survive the rising prices.
The Energy5 tool can be a turning point for making crucial energy and gas savings decisions for your home and your business. You are the one who can take the necessary steps to reduce your carbon footprint. Choose Illinois electricity providers that can present a plan with fixed energy rates to overcome the energy crisis and save money on your bill.